week of April 3, 1960 - High Court Calls Rohr Tax Case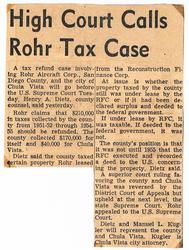 April 3, 1960 - publication unknown
Courtesy of Sam Sepulveda, 7/25/2013.



The Rohr Aircraft Memories website is owned by Sue Poole.
Opinions expressed on these pages are not necessarily those of the site owner.
All content is @2006-2020 Sue Poole unless otherwise credited or a vintage reprint.